The Center for X-Ray Optics is a multi-disciplined research group within Lawrence Berkeley National Laboratory's (LBNL) Materials Sciences Division (MSD). Notice to users.
Diffractive lenses for a new generation of x-ray beamlines.
"This is where different areas of nanoscience and nanotechnology come together. We use the Nanowriter to make the zoneplates that researchers use to solve Nature's mysteries on the smallest scale. Biologists, chemists, electrical engineers, and material scientists, use CXRO's zoneplates for cutting-edge science."
Weilun Chao,
Nanowriter Team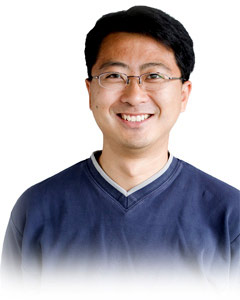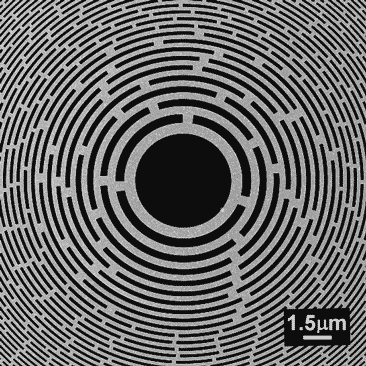 Zoneplate lenses.
Traditional refractive lenses don't work with x-ray and EUV light because absorption is too high. To bend and focus light at these wavelengths, optical systems must use reflective or diffractive lenses. The image to the left shows a diffractive 'zone plate' lens that was installed at the XM-1 microscope at the Advanced Light Source, enabling 15 nm spatial resolution. CXRO's Nanowriter is the world's only electron-beam lithography tool customized to create the curved, continuous shapes that define the zoneplate pattern.
12 nm resolution.
Using a double-exposure overlay technique, CXRO's Nanowriter team produced the world's highest resolution zone plate enabling imaging resolution of 12 nm.

The Zoneplate team.
Staff Scientist

Staff Scientist