The LDJIM was created in 2014 expanding on the partnership between LBNL and DGIST initiated in 2012.
Initial research has concentrated on low-dimensional materials, i.e., 0D nanoparticles, 1D nanowires, or 2D nanoplates or thin films. With proper combinatorial structures made of low-dimensional materials, manipulation of the spins, magnetic domain walls, and even the lattice distortion of the magnetic nanomaterials is possible and can be observed with x-ray microscopy.
Nano-structured materials are prepared at DGIST and x-ray microscopy is carried out at LBNL. CXRO patterning expertise is also leveraged for the post processing of specimens enabling optimized control of the dynamic behavior of spin and domains in the nanopatterns.
Contact Patrick Naulleau if you have questions about the LDJIM.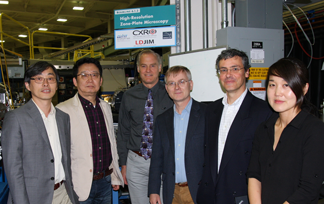 LDJIM Opening Ceremony. (from left to right): Jung-Il Hong (DGIST), Yong Seung Kwon (DGIST), Steve Kevan (ALS), Peter Fischer (CXRO), Patrick Naulleau (CXRO), and Mi-Young Im (CXRO and DGIST)